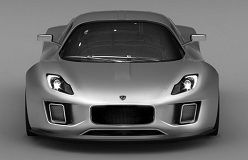 Not long ago Gumpert was almost bankrupt, but they wasted no time and now presented their new supercar that has the official presentation scheduled to March, at the Geneva Motor Show.
The Tornante aims to be a more upscale supercar and not as radical and pure as the Apollo, whose production started recently again. Compared to the concept presented in the last Geneva Motor Show, many changes were made mainly on the back of the car, with new taillights, bumper, rear glass and tailpipes.
Officially we do not know anything about the engine and its performance, but rumors point to a bi-turbo V8 engine with 700hp connected to a 6-speed semi-automatic transmission, meaning the car will do 0 to 100km/h in less than 4 seconds and will have a top speed of over 350km/h.
The overall shape looks like the Bugatti, i
n particular
the wheels.
Source:
AutoPortal