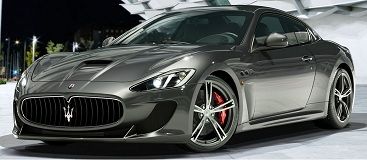 Like most new cars that were introduced in the last weeks, the 2014 Maserati GranTurismo MC Stradale will also have its premiere at the Geneva Motor Show with an updated engine, a few improved exterior details and one big change inside.
And the big change in the interior is the inclusion of the rear seats, since the Stradale versions did not have them to help reduce weight. But while the car is heavier it also has an improved 4.7 liter V8 engine that now produces 460hp with lower CO2 emissions and fuel consumption.
The gearbox is the six-speed manual robotized MC Race Shift, and the car now achieves a top speed of 303km/h (188mph) while the 0 to 100km/h (62mph) run is done in around 4.5 seconds.
Outside Maserati added a new carbon fiber bonnet/hood with a central air intake, two rear extractors and 20 inch forged alloy rims around the standard Brembo carbon ceramic brake discs.