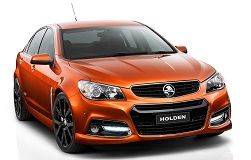 Recently the Australian company revealed the first car from the VF Commodore Series, the
Calais V
, and soon enough they showed us the more sporty VF SS V, that for now is only a show car but promises to "
to seriously challenge any large performance sedan on the planet
".
The exterior of the car as some changes to the body, including new front and rear bumpers, 20inch black double five-spoke wheels, a little spoiler at the back and a custom Fantale orange metallic paint. While the interior features the same arrangement as the Calais V but with a gloss black trim and leather seats.
In
a mechanical
level
we only know
that
it
has Brembo
brakes
, everything else is unknown for now.