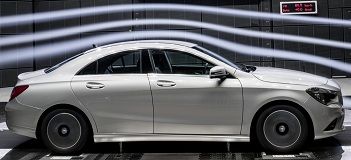 The drag coefficient is one of the characteristics that most automakers ignores. But not Mercedes. The German brand claims their new car,
the CLA
, is the world's most aerodynamic production car, even more that the Toyota Prius (Cd of 0.25).
The CLA has a drag coefficient of just 0.22 thanks to the small front area of 2.21m2 and several other improvements you can see in the image below.
The effort to reduce the drag coefficient is done to improve the fuel consumption and CO2 emissions and Mercedes will soon see its aerodynamic development work improved with the opening of a new wind tunnel at its Sindelfingen R&D facility.
Source:
autocar