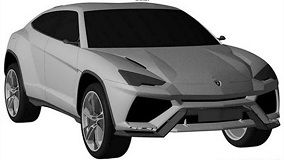 The current President and CEO of Italian sports car manufacturer Automobili Lamborghini S.p.A., Stephan Winkelmann,
said some time ago
that the brand doesn't need a SUV in their model range but today a few patents drawings appeared in China meaning they Urus might be produced.
Does this mean the car will go into production? No, they might be just protecting their design to avoid Chinese copies. But according to a Chinese website it will go into production close to the year 2017.
It will utilize the same platform used in the new generation Audi Q7, Porsche Cayenne, Volkswagen Touareg and Bentley EXP 9 F and will weigh approximately 1996kg (4400lbs). To achieve that weight it will be employed a lot of carbon fiber reinforced plastics, aluminum and magnesium in several of the SUV parts.
The engine should be a V10 with around 600hp. We have to wait and see if this turns out to be true.