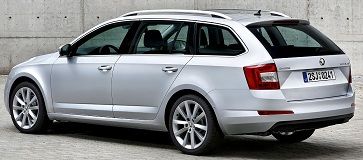 Like all the new cars being presented in these days it will also be at the Geneva Motor Show and the majority of car is already known from the sedan, meaning the only changes happen outside and in the rear which is of course bigger.
Click here to see the sedan
.
The new Octavia Combi is 90mm longer and 45mm wider than its predecessor, and has a wheelbase which is also longer by 11mm. The boot has 610liters, which is a record in its class, and can get to 1.740liters when the rear seats are folded.
Skoda offers the same four petrol and four diesel engines available in the sedan and the Combi 4×4 with a new four-wheel drive system (5th-generation Haldex clutch). The GreenLine Version reaches a fuel consumption of only 3.4l/100km and CO2 emissions of only 89g/km.