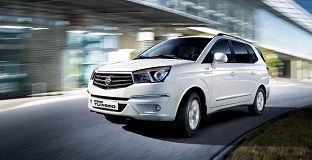 This should be considered a mini-bus instead of a multi-leisure vehicle (MLV), and, funny enough, it was introduced at the Seoul Trade Exhibition & Convention Center (SETEC) in Gangnam, Seoul. Unfortunately it doesn't have the style (ah ah..), in fact, its really ugly.
The car will have its worlds presentation at the Geneva Motor Show with only one diesel engine, the e-XDI200 LET with 155hp @ 4000rpm and a maximum torque of 360Nm between 1,500 to 2,800rpm mated to an six-speed manual gearbox or a Mercedes Benz E-Tronic 5-speed automatic.
This vehicle will be capable of transporting 11 people in 4 rows, so the almost 5.2meter length wasn't a surprise, and the optional 7inch touchscreen isn't big enough if someone in the 4th row wants to see anything in it. Find it more at the Geneva Motor Show.