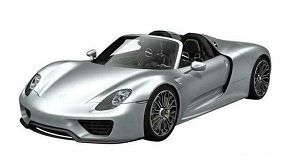 Porsche patented the production version of the 918 Spyder in China and quickly the patents were revealed showing us what the future hybrid supercar from the German company will look like.
The differences between this car and the concept, concern things that are mandatory in a road version, as door handles, mirrors, indicator lights, seat belts, some cosmetic changes to the front bumper and the exhaust is no longer on the side.
The public presentation should happen in September, 2013, and will cost approximately €755.000 ($1.000.000). The engine will be a 4.6liter V8 with 580hp (430 kW) connected to two electric motors, one moves the front wheels and has 115hp while the other is mounted between the petrol engine and the
seven-speed
PDK transmission, and will help with 125hp.
The hybrid supercar will do 0 to 100km/h (62mph) in less than 3 seconds and will have a top speed of over 320km/h (200mph).
Source:
CarNewsChina