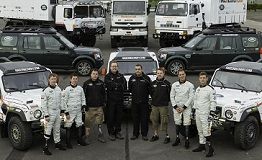 Race2Recovery is a team made up predominantly of wounded soldiers, and wants to be the first to complete the Dakar Rally in South America, which will start on January 5, 2013.
Their objective is to inspire those who are injured, disabled or facing adversity, and also to raise money for a charitable cause, the Tedworth House recovery centre in Wiltshire.
You probably remember them from the Top Gear (Series 17) episode on which Richard Hammond joined them telling us some of their stories and their dream, to take part in the Dakar Rally. Even Ben Collins, the ex-Stig, helped them.
They will race in a Qt Wildcat 500DKR with an 4.0litre Land Rover V8 petrol engine producing 275hp with the FIA restrictor and 406Nm (300ft/lbs) at 3850rpm.
I wish them good luck!
Source:
race2recovery