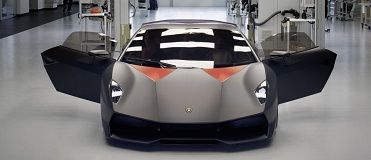 The Lamborghini Sesto Elemento was first introduced in 2010 at the Paris Motor Show and was soon acclaimed as one of the best looking supercars seen so far, still having that familiar and also radical Lamborghini look. As a curiosity the Sesto Elemento's name is a reference to the atomic number of carbon, due to the extensive use of fiber carbon.
And it is thanks to the carbon fiber reinforced polymers (CFRP) that the car can have a curb weight of only 999 kilograms (2.202 lb), and with the engine (5,2liter V10) from the Gallardo LP570-4 Superleggera that produces 570 horsepower and 540 Nm (398 lb·ft) of torque, it has a power-to-weight ratio of 1,75 kg/hp (3,85 lb/hp).
The all-wheel drive Sesto Elemento will take 2,5 seconds to reach 100km/h (62mph) and won't be able accelerate beyond the 320km/h (200mph). Production will take place in the so-called Lamborghini Pre-Series Center, a special facility which was set up specifically to produce special models.
The price? 1.5 million euros or almost 2 million dollars. but if you have that money and want to buy , you can't since the twenty units that will be produced have all been sold.
Source:
autoblog.nl