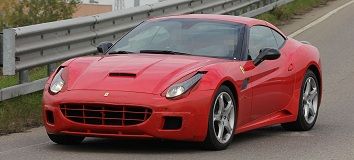 Autocar obtained photographs of the future generation of the Ferrari California and according to those who heard the car said it sounded like it had a turbocharged engine, possibly a version of the new V8 family which was premiered in the Maserati Quattroporte and had 3.8liters.
From the pictures we still can not get a good idea of the aspect of the California's future generation since this test mule has the bodywork of the current model and is only testing the mechanical part. But the raised bonnet indicates it needs more room in the engine bay possibly for a turbocharger.
Don't be afraid of the crazy exhaust, that is there to lower the sound coming from the engine because it is a test-car requirement in the Fiorano test circuit, in order to calm local residents.
Rumors point to a presentation in 2014, with sales to begin in the following year.
Source:
autocar