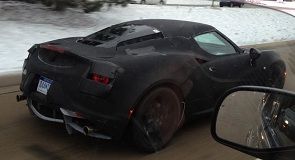 Would you look at this, the Alfa Romeo 4C was caught testing in Detroit, USA (picture), meaning a presentation may happen soon, especially if we take into account the
teaser revealed before Christmas
by the Italian company promising a big surprise in 2013.
Yet we still do not know anything, and can only speculate about the mechanical characteristics of the 4C. Rumors point to a 4 cylinder, 1750cc engine with around 250hp and should weigh less than 1000kg (2200lb).
The maximum speed
should be limited to
250km/h (155mph) and
will take less
than 5 seconds
to
reach
100km/h (62mph).
So far

nothing extraordinary

,

but what

will make the car

stand out

is the

intense use of

composite materials

such as

carbon fiber

for the

structure of the

car.
Production should start this Spring.
The 4C was also caught testing in Italy. As you can see in the video below the car left the road and got stuck in a ditch. But right in the end of the video we see another disguised car, does anyone have any idea what car is that? The Giulietta has the rear door handles "hidden", while the mystery vehicle has them in sight. Can it be the future Giulia? Or the Giulietta based SUV? What do you think?