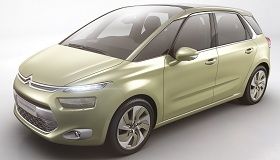 Are you serious Citroen? In the last few days we have
seen the new C4 Picasso several times
without camouflage, so we know how the car looks, why did you release several images of a car similar to the Picasso and call it the Citroen Technospace Concept?
But at least Citroen revealed more information about the upcoming model. The new C4 Picasso will have a length of 4.43m, a width of 1.83m, a height of 1.61m, and a boot capacity of 537 liters. Not bad for a car that Citroen describes as having a "Previously unseen proportions". Couldn't agree more, but they also added it has "Strong, expressive design with dynamic lines and high-tech headlamps complemented by 3D-effect tail lights inspired by the latest CITROËN concept cars".
I already said this earlier, but we knew the new MPV was going to be more efficient, part thanks to the also new EMP2 platform (don't worry, this won't destroy all electronic devices within a radius of 5km), known as the Efficient Modular Platform 2, which is 70kg lighter over the previous one. This means a record CO2 emissions level of 98g/km.
One thing was confirmed, besides the multiple technologies for enhanced comfort, Citroen will have available a high-definition 12inch panoramic screen. That is larger than many laptops.
Don't miss the official presentation at the Geneva Motor Show next month.