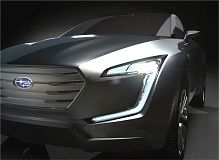 Like most brands Subaru will present a new concept at the Geneva Motor Show. And like most car makers this is also a new crossover with the objective of showing the brands direction of new designs and new technologies.
According to Subaru this concept embodies the brand value of "Enjoyment and Peace of Mind", while the model name is a coined word inspired by the phrase "Vision for Innovation". I think Subaru is trying to confuse us, and they haven't learned we only want to know power, torque, top speed, acceleration, how the car looks, and alter the price. Then we find out its too expensive and move to another vehicle.
So lets all wait for the Geneva Motor Show to find out more relevant informations about this new crossover that "expresses a future vision for innovation, and a concept car suggesting the brand's direction".