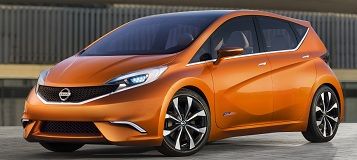 In total Nissan will invest 110 million euros, almost 150 million dollars, in their factory located in Barcelona, Spain, so they can start building a new passenger car from July 2014. The vehicle is rumored to be a new C-Segment car, possibly with some styling cues taken from the Nissan Invitation concept shown almost a year ago (In reality this concept gave birth to the Nissan Note).
This investment will allow for an additional 80,000 units of annual capacity to Barcelona, and the creation of 1,000 direct and 3,000 indirect jobs. Really good in a country getting close to an unemployment rate of 30%.
But this isn't the only investment at the Barcelona plant. Nissan will invest 14 million euros (19 million dollars) to increase the annual production capacity by 24.000 units of the 1-Ton Pickup, and 6 million euros (8.15 million dollars) for the assembly of the gearbox for the Nissan LEAF and Nissan eNV200.
Of course Frank Torres, Nissan Motor Ibérica Managing Director, was really happy with this investment by say that: "I have the pleasure of sharing with you the fruits of the competitiveness agreement reached last week, which have opened the door to new production opportunities. The most important thing now is to be able to ensure the successful launch of these products and keep the competitiveness commitment. If we do, I am sure new opportunities will come."
Adding that "In the coming years, Barcelona plant will work at full capacity, with an annual output over 200,000 units while maintaining its attractiveness to produce new models. Given the current crisis environment, this is not only a great achievement for Nissan, but for the entire industry in this country."
Source: Nissan