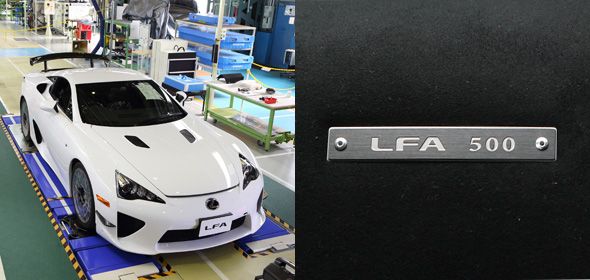 On December 14 the last, 500th LFA was completed and will be delivered to its owner after final inspection and road testing, marking an era for Lexus.
This car was a white right hand drive LFA Nurburgring Edition, with a hand built 4.8liter V10 engine producing over 550hp and 480Nm (354lb/ft) connected to a six-speed automated sequential gearbox (ASG) making the car reach 100km/h in less than 4 seconds.
Each car took one day to be done and production started December 2010, while production of the LFA Nürburgring Package started in January 2012 with only 50 cars built until today.
Lexus says future vehicles will use what was learned from the LFA, including the design and the production of carbon fiber reinforced plastic parts.
さようなら
Source: Lexus