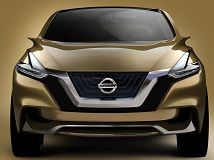 Nissan took advantage of the Detroit Auto Show to reveal the future direction of Nissan crossovers, but I suspect that will only serve to show the lines of the Murano III.
This new concept has a hybrid electric drivetrain driving all four wheels. The system combines a smaller displacement internal combustion gasoline engine with an electric motor/lithium-ion battery and an advanced management system, together with the new Xtronic Continuously Variable Transmission (CVT).
The design is innovative, in particular the profile. Francois Bancon, Nissan Motor Co. division general manager, Product Strategy and Planning, added: "When the designers were first working on conceptualizing the Nissan Resonance, they were inspired by amazing scientific advancements in technology and material innovations. They also were inspired by the aspirations of those people who unabashedly embrace innovation and are optimistic about the future. It was about serving those people a concept vehicle that is forward-looking and fuses style with an athletic ride."