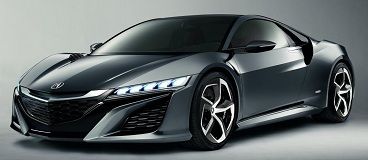 Over the last year Acura, or if you want, Honda, previewed several times the NSX in almost all the possible car shows in the world, but now, for the first time, we get to see the interior.
But let's start with the exterior. The front is a slightly different, with a new carbon fiber piece in the front grille (it has a clear plastic covering the front and rear license plate holder), side vents of both the rear and front bumpers, and the inclusion of turning signals at the front and in the back (LED strip).
The inside, in the lack of a better word, is minimalist. It has virtually no buttons or controls, but Honda says this is for a reason. "The interior package boasts outstanding visibility, an exotic driving position, and an intuitive "Simple Sports Interface" that minimizes interior clutter, allowing the driver to focus on the driving experience". Good enough for me, it looks really look.
The Acura NSX will be powered by a mid-mounted, direct-injected V6 engine connected to Acura's Sport Hybrid SH-AWD® (Super Handling All-Wheel Drive) system. This system is an all-new, three-motor high-performance hybrid system that combines torque vectoring all-wheel drive with advanced hybrid efficiency through the use of three electric motors – one motor integrated with the V-6 engine and two motors driving the front wheels – along with an all-new dual-clutch transmission (DCT). This sounds really good, but we have to await for real figures, to comment on whether this is good or not.