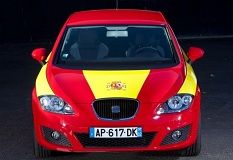 The German company Volkswagen said last week it would invest around 785 million euros ($1 billion) in a plant in northern Spain over the next five years, making it the third company in recent months that announced a major investment in that country with severe economy problems.
First it was Ford that said they were going to move production from their Belgium factory to Spain, then Renault announced it was hiring 1.300 new people, but just last week Nissan canceled the plans to expand production of a new model in Spain because they didn't reach an agreement with union workers adding that Spain was losing 4.000 jobs and an investment of 130 million euros.
The Volkswagen plant is in Pamplona in the region of Navarra, can produce up to 1.400 vehicles every day and provides work for 4.600 people, so this was good news for the struggling country. But the Spanish government boasted that these investments happen because "they are the result of a labour market reform that makes the country more competitive for businesses and also makes it cheaper for companies to hire and fire employees.".
I am not sure if its a good thing to make it cheaper to fire people but it seems that's what the companies want.
Source:
reuters