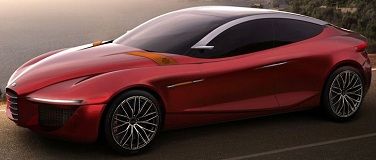 Alfa Romeo will go through a huge transformation in the coming years starting with the arrival to the U.S.A. later this year and the release of the 4C sports car. So a new concept is always something we have interest in. The Gloria concept was created by the European Design Institute (IED) in collaboration with the Alfa Romeo Style Centre.
It was done as a practical exercise for the IED's (it won't explode) young students in which they had to come up with an independent interpretation of a new Alfa Romeo saloon for the the American and Asian markets.
With 4700mm long, 1920mm wide, 1320mm high and with a wheelbase of 2900mm the saloon is long and low giving it a more sporty look, and to help that feeling it would be powered by a "state-of-the-art V6 or V8 biturbo engine".
Could we see this as a production model for Alfa Romeo? Or will it inspire other future models? Find it more at the Geneva Motor Show.