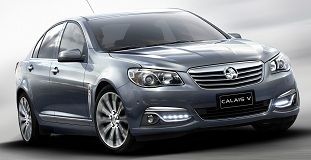 Holden is really going crazy over this new Commodore, calling it the best Commodore ever, that is also safer, more user-friendly and more fuel efficient. But what bothers me is that it looks like an Opel even if they say they "raised the bar". Richard Ferlazzo Holden Chief Designer (Creative Design) even said they took "a great existing form and brought it up to another level,"
I disagree, it still looks like an Opel Insignia (the back is more similar to the Malibu), and i actually prefer the VE, it was more distinctive. Having said that the car isn't ugly, it is classy and looks more luxurious, and while the interior is completely new, the exterior has the roof, doors and glasses of the older model. Besides that it was completely designed and engineered in Australia, something to be proud of.
One of the main aspects is the inclusion of several technologically advanced features, like the Auto Park Assist available on all modes, where the driver operates the pedals but the car effectively parks itself and you can choose between a parallel or 90 degree angle park. You also have the MyLink infotainment system and keyless entry and start.
The new safety features include Reverse Traffic Alert, Blind Spot Alert, Forward Collision Alert, Lane Departure Warning and a Head-Up Display. Pretty cool, right?
Engines or specifications weren't revealed but the car will go on sale in Australia from Mid-2013, and will reach the United States of America as the Chevrolet SS, both built in Australia. Still the engines should be the same V6 and V8 from the VE model. See the Calais V gallery below.

Oh and don't worry this won't be the last Commodore, a new one will show up in 2016.