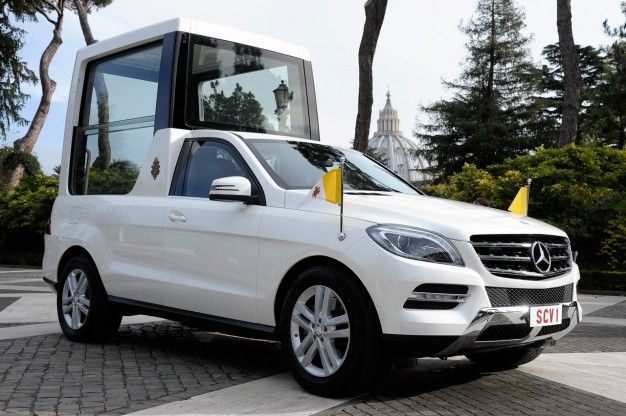 For the last 80 years Mercedes has been proviing transportation to the Popes, and now they introduced the new M-Class that will carry and protect Pope Benedict XVI.
It was designed to allow the Pope to be more visible but also protected, specially after the Ali Agca assassination attempt in 1981, so they are now all bullet "proof" and possibly bomb "proof". This new version has a bigger glass area, it's lower but the Pope has more standing height room. It also has a new throne, yes, a throne.
As a curiosity all the Popemobiles use a registration plate with "SCV 1" in it, which means "Stato della Città del Vaticano" and "Status Civitatis Vaticanae". But Mercedes isn't the only one making Popemobiles,
UMM
, a dead Portuguese car maker once built three based on the UMM Alter II, two of them are in Angola and the other stayed in Madeira, Portugal.
The price isn't known but i am sure it could feed a lot of kids in Africa.
Source:
CarandDriver