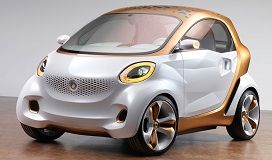 Smart Forvision Concept
According to CarMagazine, Renault withdrew the development, together with Daimler, of the Smart ForTwo's twin brother codenamed Project Edison, in order to save money and manpower, meaning the Germans will have to continue the development alone.
Renault has several reasons for not wanting to continue to participate in this project. Apart from wanting to save resources, the objectives of the car are not being met since it is over budget and overweight.
Another relevant point to this decision may have been the choice of a gasoline engine instead of a diesel like the current generation, leading to an increase in CO2 emissions of 86g/km to 99g/km. The motors will all have 3 cylinders, with the weakest having an 0,9liter engine with 65hp, while the others will have 85 and 105hp.
The gearbox will also be changed from a sequential transmission to a manual with six-speeds. but if you want you can pay €2000 and get a new seven-speed twin-clutch gearbox.
On the outside the new Smart will be a little bit longer (2700mm to 2730mm) and a lot wider (1750 to 1870mm), making it more stable, but less urban-friendly.
A few months later a cabriolet and an electric version will be presented to the public.
Source:
CarMagazine
Smart Forvision Concept