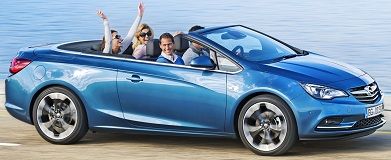 The Geneva Motor Show will see the world premiere of the Opel Cascada, the German brands new four-seater convertible. The name Cascada comes from the Spanish word meaning waterfall, conveying "a rhythmic, dynamic and flowing elegance, beauty, freshness and pure pleasure for open-air driving".
The 4.70 meter long and 1.84 meter wide convertible has an electric soft top that can be opened at the press of a button and at speeds up to 50km/h in just 17 seconds or also via remote control when the car is parked. And while most convertibles have terrible luggage space, the Cascada has room for 280 liters with the roof open and 350 liters when its closed.
The Cascada will be available from April with several engines. You can choose from the 1.4 liter turbo with 120hp (88kW) or 140hp (103kW), 1.6 liter SIDI turbo producing 170hp (125kW). On the diesel side we have a 2.0 liter CDTI ecoFLEX (5.2l/100km, CO2 emissions of 138g/km) with 165hp (121kW).
Later Opel will offer another diesel engine, the 2.0 liter biturbo CDTI ecoFLEX with 195hp (143kW) and a maximum torque of 400Nm, and all of that torque will be needed to move this 1700kg car.